Arrest after body found in Holywood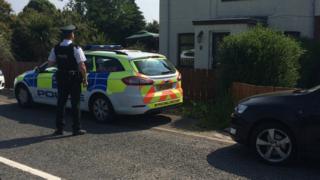 A 53-year-old man has been arrested following the death of another man in Holywood, County Down.
The body of a man in his 40s was found in Ballydavey Cottages on Sunday night.
Police are treating the death as suspicious.
The Northern Ireland Assembly confirmed on Monday that the man who died had been a member of its staff.
In a statement to the BBC, the Assembly Commission, which runs parliament buildings, said it wished "to express its sympathy to the family and friends of one of its valued members of staff who has passed away".