Paint attack on Crewe Orange Hall treated as hate crime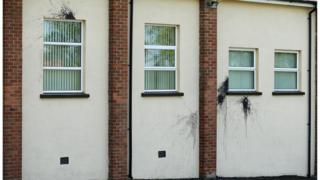 Police have said they are treating an attack on an Orange hall in County Antrim as a hate crime.
Paint was thrown over the windows and wall of Crewe Orange Hall on Crewe Road in Upper Ballinderry some time between Saturday night and Sunday morning.
A spokesman for the Orange Order said the attack was the eighth on its property in Northern Ireland this year.
He said there "remains a legacy of hatred" against the order "amongst a small minority".
"Such moronic activity is an attack on the entire community and serves absolutely no purpose," he added.
"The vast majority of the community utterly rejects such sectarianism and criminality."