Markethill: Kittens 'thrown out of moving car'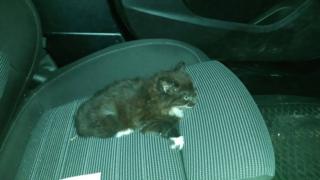 Police are investigating after two kittens were thrown out of a moving car in Markethill, County Armagh.
Officers were called to Mowhan Road in the village on Thursday night and found one of the kittens, which had sustained a broken shoulder as a result.
They posted a photo of the injured kitten on the PSNI Armagh Facebook page, and brought it back to their station where it was examined by a vet.
They could not find the other kitten and have appealed for information.
'Disgusting'
"If anyone happens to come across a kitten in the area that they think doesn't belong there please contact us and help us reunite it with its sibling," the officers wrote.
"Before you ask, we had a vet attend after we brought the kitten back to the station, and no, we do not need to find it a home."
Newry and Armagh MLA Danny Kennedy tweeted that the incident was "absolutely disgusting- anyone with information should report it to the PSNI".