Stakeknife probe and Loughinisland murder investigation details to be released on the same day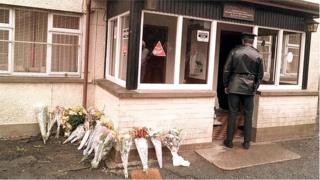 Details of separate investigations into the murders of six men 22 years ago and the alleged activities of the Army's most high-ranking agent in the IRA will be released on the same day.
The Police Ombudsman will publish a report on Thursday, 9 June, into the murders in Loughinisland, County Down.
Six men were shot dead while they were watching a World Cup match in a pub.
On the same day, police will release details of its investigation into the agent codenamed Stakeknife.
The long-awaited Loughinisland report is the second one produced on the killings by the Ombudsman.
The men were killed by loyalist paramilitaries on 18 June 1994.
The gun attack on the Heights Bar became known as the Loughinisland massacre.
Relatives of those who died were strongly critical of the original Ombudsman report published in 2011.
It found that the police did not properly investigate the killings but said there was no evidence of collusion between police and the UVF paramilitaries who carried out the attack.
The report's findings were quashed by the Belfast High Court and a fresh investigation was opened by the Ombudsman.
Meanwhile, on Thursday, police are expected to confirm the team who will investigate Stakeknife and details of their remit.
The agent has been linked to the murders of up to 50 people during the Troubles.
He has been named in the media as Freddie Scappacticci, originally from west Belfast.
Mr Scappaticci has denied the allegations.
PSNI Chief Constable George Hamilton has previously confirmed that detectives from outside of Northern Ireland would conduct the investigation.