Three boys on Belfast's Black Mountain rescued by police helicopter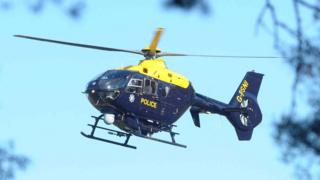 Three boys have been rescued by a police helicopter after they became stuck on a Belfast mountain.
A search by the police air support team found the boys at about 22:30 BST on Thursday night.
The helicopter landed close to where the boys were on the mountain and they were airlifted to a sports field, where they were checked by paramedics.
Police said the boys, two aged 12 and one aged 14, were "cold but otherwise unharmed by their ordeal".
The boys were collected by family members after their medical checks.