Kincora: Statements to the to RUC from former residents being examined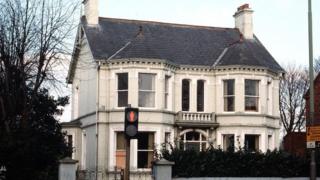 Statements given to the RUC in the 1980s by former residents of the Kincora Boys' Home have been mentioned at the Historical Institutional Abuse Inquiry in Banbridge.
The inquiry is now examining what happened at the home.
Some of the former residents indicated that some level of sexual abuse by members of staff was "almost a daily occurrence."
There have been claims that a vice ring operated in the home.
'Surprised' by abuse claims
In their statements some of the other men said that when they were at the home, they had never seen any evidence of politicians, police officers, Justices of the Peace, civil servants and businessmen coming to abuse residents.
Some former residents told the police that they had been "very surprised" by the news reports about sexual abuse at the home and had never witnessed anything they considered inappropriate.
Others said they resisted the advances of staff members, and thereafter were "left alone".
Three men who worked at the home, William McGrath, Joseph Mains and Raymond Semple were convicted in 1981 of the sexual abuse of residents at the home.
Five years
It later emerged that a letter written to the police in 1971, detailing alleged sexual abuse, did not reach detectives for five years.
It was written by a resident known to the Inquiry as "R8" complaining about the behaviour of Joseph Mains, the most senior staff member at the home.
Mains was convicted of abuse at Kincora in 1981.
Although one copy of the letter was given to Belfast Welfare Authority, the first mention of the second copy intended for the police, is five years later in 1976.
It is understood the boy had hoped his social worker would hand the second letter in, marked for Belfast Central Police Station".
'Difficulties investigating allegations'
The inquiry heard of the difficulties the RUC had in the 1980s when investigating what had happened, because stories and evidence sometimes changed.
Counsel to the inquiry Joseph Aiken described how one former resident saw the first newspaper articles about Kincora in the early 1980s, and later contacted local journalists offering to sell information and the names of men who had visited the home.
The inquiry saw statements from one of the journalists involved indicating that he had not found the man's story reliable and that he explained that his paper did not pay for information.
The statement added that the information offered was never used as part of any newspaper story.
After this incident the RUC spoke to the former resident again, and he said he had never seen any evidence of prostitution or a vice ring operating from the home.
The inquiry later heard how two boys had gone the Belfast Welfare in 1967 and made complaints against Joseph Mains.
Three former staff at Kincora were jailed in 1981 for abusing boys.
At least 29 boys were abused at Kincora between the late 1950s and early 1980s.