Ten year sentence for woman who stabbed partner to death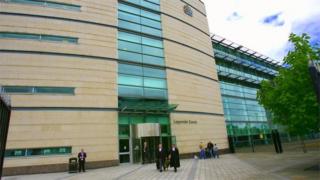 A woman who stabbed her partner to death during an alcohol-fuelled row has been handed a ten year sentence.
Sara Jane Mitchell was told that her violent actions have deprived two children of their father.
The 44-year old, from Lindsay Court in Belfast, stabbed Anthony Robin to death in his Fitzroy Avenue flat in south Belfast on 11 May, 2009.
She denied murder but pleaded guilty to manslaughter on the grounds of diminished responsibility.
She was sentenced to five years in prison with the remaining five years on licence.
However, due to time she has already served, Mitchell was not returned to custody.
The judge spoke of Mitchell's "long history of mental health difficulties" and revealed that several experts agreed that at the time of Mr Robin's killing, Mitchell was suffering from "an abnormality of mind - Alcohol Dependence Syndrome".
This, the judge said, impaired her mental responsibility at the time.
Sentencing her at Belfast Crown Court, Mr Justice Treacy said that at the time of his death, Mr Robin and Mitchell "lived together intermittently" and that their relationship was "turbulent, volatile and blighted by the excessive consumption of alcohol".
Prior to the fatal stabbing, Mr Robin and Mitchell became embroiled in a heated exchange on the landing of the flat.
Mr Robin's then 16-year old son witnessed his father being stabbed to death on the stairs outside the living room.
The victim's sister Kim Robin described her brother as a loving father whose death has deprived his two sons of their father's guidance and support.
The judge also told Mitchell that he accepted that during her time spent in custody, she has been a model prisoner who has turned her life around.