Eight child migrants go missing from NI authorities' care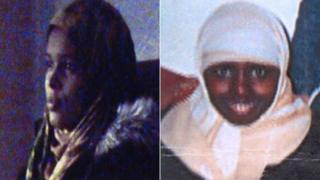 Eight children who came to Northern Ireland after fleeing their home countries have disappeared while they were in the care of the authorities, a BBC Spotlight investigation has learned.
Spotlight looks in detail at the cases of two of the missing children.
Both are Somali girls who abruptly disappeared weeks after arriving in Belfast, almost seven years apart.
All the missing children were classed as "separated children".
Separated children are children outside their country of origin and separated from their parents or legal guardian. The term can also include unaccompanied asylum seeking children and trafficked children.
Freedom of Information requests submitted by BBC Spotlight show that 49 separated children presented to health trusts across Northern Ireland since 2010.
Children from Syria, Somalia, Afghanistan, Vietnam and North Korea are among those who have made it to Northern Ireland without their families.
The Health and Social Care Board have said no children have gone missing since 2014.
BBC Spotlight has been trying to get exact details of how many children have gone missing but the data has been difficult to obtain from the authorities.
According to the Health and Social Care Board, eight children have gone missing since 2005 and remain missing.
Aidan McQuade from Anti-Slavery International believes a double standard is operating.
"If these were local kids it was would be a national scandal. It would be a scandal across these islands," he said.
Two of the girls who have gone missing are Somali teenagers Nadra Ali and Zahra Abdi.
Nadra Ali, aged 16, was last seen in January 2012 outside the Belfast Islamic Centre.
She was in Northern Ireland for 18 days before she disappeared.
Suleiman Abdullahi, was one of the last people to see Nadra, before she vanished.
"She was a very pretty girl, she was wearing a head scarf at the time, dressed in a Somali way and she was of slim build," he said.
"She seemed very happy with the people she was with and was smiling."
But when he began to do some research, he discovered that Nadra wasn't the first Somali girl to go missing,
Zahra Abdi, believed to be 14, was originally from Mogadishu. She was staying in a facility near Eia Street in north Belfast.
She went missing in June 2005 and has not been seen since.
In a programme to be broadcast on Tuesday night BBC Spotlight retraces the steps of both girls in Belfast before they went missing and tries to find out what happened to them.
Former cabinet minister, Yvette Cooper MP, who is the head of Labour's Refugee Task Force is leading the charge for the UK to take in more child refugees from Europe.
Ms Cooper said she was shocked when she learnt the girls had disappeared.
"I think, as parents we would be appalled to have a 14-year-old go missing," she said.
"I think you need local authorities to take responsibility but also the police to take responsibility.
"You can't see these as immigration cases. It's a serious child protection issue."
The PSNI have said they have no active leads in either case.
Det Ch Ins Gary Reid from the PSNI Organised Crime Brach has reviewed both the cases and said he believes the investigations were carried out properly with the information they had available to them at the time.
The Belfast Trust said they were aware of a case of a child going missing in 2012 and that they fully co-operated with police enquiries and carried out a serious adverse incident report.
The Health and Social Care Board have said new guidelines have been brought in for looking after the children that come into their care.
BBC Spotlight will be broadcast on BBC1 NI on Tuesday 31 May 2016 at 22:45BST and available after on BBC iPlayer.