Milltown Cemetery: Graffiti sprayed on republican graves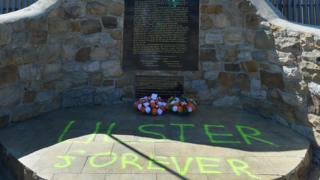 Graffiti has been daubed on republican memorials and graves in west Belfast's Milltown Cemetery overnight.
Damage was also caused to flower arrangements and tiles. The MP for the area, Paul Maskey, said the attack appeared to be sectarian.
"This is incomprehensible why this was done at this particular time," he said.
"Mindless idiots have come in and thought it was a good idea to spray paint graffiti over memorials and graves."
He added: "I think it's a sad reflection on those people.
"This attack is outrageous and does nothing other than cause distress to families whose loved ones are buried in the plot."