12 men arrested after un-notified parade in Lurgan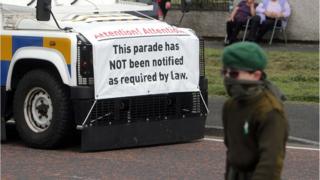 Twelve men have been arrested following an un-notified dissident republican parade in Lurgan, County Armagh.
It took place on Saturday afternoon in the Kilwilkie area of the town.
Police said the men were arrested on suspicion of offences under the Public Processions Act and associated offences.
Supt David Moore said, "The arrests were as a result of the subsequent policing operation and concurrent investigation."
BBC News NI's home affairs correspondent Vincent Kearney said those arrested had taken part in a colour party at the parade in Lurgan.
He said the men arrested were from the Republic of Ireland and were returning to Dublin when they were arrested.