EU referendum: Pro-EU MLAs says leaving would damage Northern Ireland economy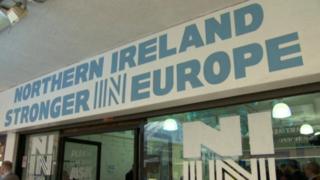 A cross-party groups of MLAs has warned that leaving the EU would damage the Northern Ireland economy.
Sinn Féin, the SDLP, Ulster Unionists, Alliance and Green Party all spoke at the launch of the local campaign for the UK to remain in the EU.
The Stronger In campaign said Northern Ireland is a net beneficiary of EU funds.
It warned there are no guarantees the UK government would replace that money in the event of a Brexit.
The Leave campaign point out that the UK as a whole is a net contributor and claim that leaving would free up extra resources.
The referendum to decide whether the UK should leave or remain in the European Union is being held on Thursday, 23 June.