Easter Rising: Dublin event commemorates British soldiers killed in 1916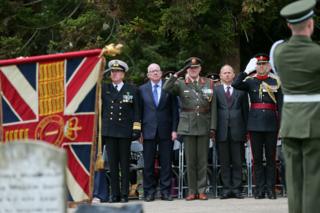 An event to commemorate the British soldiers who were killed in the 1916 Rising has been held in Dublin.
Irish Foreign Minister Charlie Flanagan and British ambassador Dominick Chilcott laid wreaths at Grangegorman Military Cemetery at the ceremony.
The event is part of the Ireland 2016 centenary programme.
A protester who interrupted the ceremony was tackled by the Canadian ambassador to Ireland and arrested shortly afterwards.
Members of the Irish and British defence forces were invited, as well as relatives of the British soldiers who were killed.
Mr Flanagan said the ceremony is about recognising the "many different narratives and experiences" of the rising.
"As many as 125 soldiers of the British Armed Forces died during the Easter Rising," he said.
"They came from every province on the island of Ireland, as well as England, Wales, Scotland and further afield."
Sinn Féin has defended its decision to not attend the service, saying it was "not appropriate" to commemorate those who were involved in attacking and killing Irish republicans.
Aengus Ó Snodaigh from the party told Irish state broadcaster RTÉ that those who wish to remember "the enemy of the Irish" in the rising were free to do so.
But he added that Sinn Féin would not "seek to equate British soldiers" with republicans who took part in the rising.
Fianna Fáil's Darragh O'Brien said the decision by Sinn Féin was "very sad and pathetic".