Legal highs ban: Adam Owens' mother welcomes move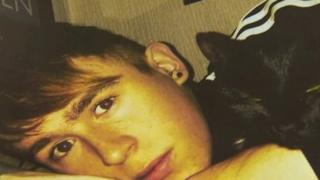 The mother of a County Down teenager who died last year after taking so-called legal highs has welcomed the ban on the substances that is now in force in the UK.
Adam Owens, 17, was discovered lying outside a house in Newtownards' Westwinds estate in April 2015.
He was taken to hospital by ambulance but pronounced dead a short time later.
Adam's mother, Adele Wallace, said that a small amount of a legal high had been enough to kill her son.
"It was 1.5 grams which is not a vast amount - if you're buying them online it usually starts at three grams and upwards," she said.
"It was bought off a drug dealer, local, and that was shared between three - himself and two other youths.
"So it wasn't a vast amount between the three, smoked, and that shared was enough to kill my child that night."
It is understood Adam had been using the drugs for some time and his family had been trying to get him help.
After his death, his parents said the drugs transformed him "from a happy intelligent young man into a suicidal teenager".
Laws criminalising the production, distribution, sale and supply of what are otherwise known as new psychoactive substances began at midnight.
The chemicals, sold under names such as spice and black mamba, are designed to give users the same effect as drugs such as cannabis and cocaine.
Last year legal highs were linked to more than 100 deaths in the UK and a rise in violent assaults in prison.
Headshops
Offenders who break the new laws will face up to seven years in prison under the Psychoactive Substances Act.
Police will also be able to shut down "headshops" - stores which sells drug paraphernalia - and online dealers in the UK.
They will have powers to seize and destroy psychoactive substances, as well as carry out searches of people, premises and vehicles.
If a person is found to be in possession of a psychoactive substance in prison, they could now face having up to two years added to their sentence.
The legislation has come under intense scrutiny since it was first proposed by the government last year.
It had been widely expected that the measures would be rolled out in April but the start date was pushed back.