NI Executive: MLAs to meet to appoint new executive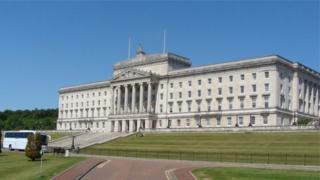 MLAs will meet at Stormont later to appoint a new power-sharing executive in the wake of the assembly election.
Both the DUP and Sinn Féin say they are confident that a full ministerial team will be put in place, despite the decision of the Ulster Unionists and the SDLP to go into opposition.
The official appointment of new ministers does not begin until noon.
However, Sinn Féin pre-empted the assembly sitting by revealing on Tuesday who its new ministers will be.
Deputy First Minister Martin McGuinness said that Máirtín Ó Muilleoir, Michelle O'Neill, Chris Hazzard and Megan Fearon will join him in the executive.
Mr McGuinness did not clarify which departments they will be allocated, although he said this would be made clear on Wednesday.
The majority of the posts in the executive will be filled by Democratic Unionist Party (DUP) and Sinn Féin MLAs.
The SDLP and Ulster Unionists are forming an opposition at Stormont.
Ulster Unionist leader Mike Nesbitt said his party would not be appointing shadow ministers on Wednesday.
"I think the sensible way forward will be for the Ulster Unionist Party to appoint spokespeople across the range of government departments and the big issues - children, victims and all the rest," he said.
"I imagine the SDLP will do the same thing, but maybe further down the line there will be a better sense of co-ordination between the two parties, but what we're not going to do is rush."
Challenges
Mr McGuinness, who will continue to serve as deputy first minister, said he had "the utmost confidence" in his ministers.
"They are all intelligent, committed, dedicated Irish republicans who understand the challenges that face us in the next five years," he said.
Confident
Mr McGuinness said his four Sinn Féin colleagues would be designated to their ministries on Wednesday.
Northern Ireland Secretary Theresa Villiers has warned that unless a justice minister is appointed by Wednesday fresh assembly elections will have to be held.
Mr McGuinness said he was "100% confident" there would be a justice minister appointed by Wednesday.
"Obviously we stated some days ago that [DUP leader and first minister] Arlene Foster and I were agreed that we would be in a position to put an executive together which would meet on Thursday," he said.