NI Assembly: Alasdair McDonnell supports SDLP opposition move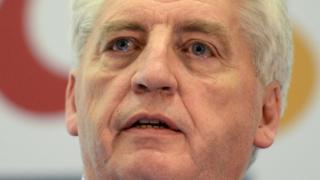 The former leader of the SDLP, Alasdair McDonnell, has said it was the "right decision" for the party to go into opposition.
The SDLP followed on from a decision by the UUP not join the DUP and Sinn Féin in the Stormont executive.
Mr McDonnell said the SDLP had sacrificed a lot as a party to keep peace and stability during the last 18 years.
He said it was now the right thing to do.
"For 18 years the SDLP has worked diligently keeping the various agreements," Mr McDonnell told the BBC's Sunday News.
"We felt that getting peace and stability here was absolutely vital and we sacrificed a lot to do that.
"It had come to a point where basically the two larger parties were treating smaller parties, particularly ourselves and the UUP, like a doormat.
'Circumstances'
"It wasn't acceptable and I think he (Colum Eastwood) made the right decision.
"If I had of been there, I would have made the same decision."
Mr McDonnell was challenged to a leadership contest by Colum Eastwood, who was elected the party's new leader last November.
Mr McDonnell, while leader of the SDLP, had opposed calls for the party to go into opposition.
"I think it has to be circumstances that are meaningful," he said.
"We had an election and we've a fresh start now to a new cycle, a new term and it's time to take stock and in fact, the discussions that took place over the last couple of weeks, there was little accommodation for any of the values or the principles that we had."