HMS Caroline: Belfast metalworkers make World War One replica guns for Battle of Jutland ship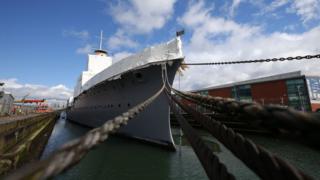 Belfast metalworkers have recreated a part of history by manufacturing replica guns for the sole surviving ship that fought in World War One's biggest naval battle.
HMS Caroline is moored in the city's docks and is set to open as a museum after a much-needed major restoration.
It fought in the Battle of Jutland off the coast of Denmark in 1916.
Seven large-scale model weapons based on the warship's originals have been built as part of its £14.5m revival.
Four four-inch guns will sit on the ship's front end, with another on its waist and two six-inch guns at the rear.
And then there is the large replica torpedo.
A 60-tonne crane lifted the first three reproductions into place on Friday, with the others set to be fitted to the ship on Monday.
They were manufactured by Acapple Construction, a firm more used to building sets for smash-hit TV shows like Game Of Thrones, which is largely filmed in Northern Ireland.
Turnaround
HMS Caroline was built in Birkenhead in England in 1914 and was launched just nine months later.
As a result, Acapple's metalworkers had precious little to guide them on creating the replicas, as Peter Brown from the company explained.
"There were a couple of old drawings but nothing specific," he said.
"The ship was made in such a quick turnaround time that most of the drawings were never kept."
The team saw the project as a special one, Mr Brown said, and began work on the weapons about three months ago.
"Once we'd got the job we all sat round as a team and said: 'This has got to be good, this is something our kids are going to be taken on school trips to see," he added.
"When people come on to the ship, the first thing they want to do is tap or feel the guns, so we wanted to make them feel as real as possible.
"We're usually making something on Game Of Thrones which looks fantastic and wins awards but in the next series is probably going to be pulled down for something new to be built.
"So to actually have the opportunity to make something for a historic warship that's going to be around for decades to come is a lovely thing to do."
Statement
HMS Caroline was one of the fastest warships of World War One and fired four-inch and six-inch rounds and torpedoes in the Battle of Jutland on 31 May 1916.
It has been berthed at Belfast's Alexandra Dock since 1924 and was used as a training vessel until it was decommissioned in 2011.
The man overseeing HMS Caroline's restoration is Jonathan Porter.
Making it feel as authentic as possible on board has been crucially important, he said, and the addition of the weapons "really makes a statement".
"The good thing about HMS Caroline is that 80% of it is as it was when it was first constructed back in 1914," he said.
"These guns have basically been manufactured more or less as they would've been, bar the fact they won't shoot anything."
HMS Caroline will open in time to mark to centenary of the Battle of Jutland, and dozens of workers buzzed around its deck on Friday as the deadline for completing the restoration neared.
Virtually everyone who had been involved in the work had "fallen in love with the vessel", Mr Porter said.
"It's a one-off opportunity to work on something like this," he said.
"You actually get the extra mile out of people and they're prepared to go even further than they normally would do to make sure it's the proper job.
"All these little things add to the authenticity."