Archbishop of Canterbury meets loyalists to discuss peace building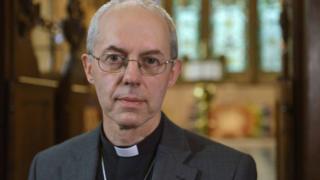 The Archbishop of Canterbury has met representatives of the Loyalist Communities Council (LCC) in London.
Dr Justin Welby's press office said Friday's private meeting was held over lunch at his residence, Lambeth Palace.
The Church of England primate spoke about "his experience of reconciliation and peace building".
In a tweet, the LCC's Winston Irvine said it briefed Dr Welby on its role in committing former loyalist paramilitary groups to the peace process.
Paramilitary groups
"During the meeting, the LCC members and the archbishop discussed issues relating to social justice, peace and reconciliation and resolving the legacy of the conflict in Northern Ireland," Mr Irvine tweeted.
The meeting was held at the invitation of the archbishop.
The LCC was launched in October 2015 with the backing of the three main loyalist paramilitary groups, the UDA, the UVF and the Red Hand Commando.
The groups denounced criminality and gave their support for an initiative aimed at re-engaging them with the peace process.