Ian Paisley calls for apology from Jim Wells over cigarette packaging remark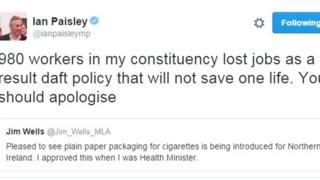 The North Antrim DUP MP Ian Paisley has asked his party colleague, Jim Wells, for an apology on Twitter.
Mr Wells posted that he was pleased the introduction of plain paper packaging for cigarettes was being introduced in Northern Ireland as he had approved it while health minister.
Mr Paisley posted that 980 workers at the JTI tobacco factory had lost their jobs as a result of the policy.
In a twitter post, he called on Mr Wells to apologise.
Mr Paisley told the Nolan Show: "I count him as a very good friend, but my first duty is to my constituents."
He said that "before anyone celebrates and applauds these policies, the effect has been this morning 500 people in my constituency left their employment for the last time".
In a statement to the Nolan Show, Mr Wells said that he "had not seen the tweet".
"The decision on plain paper packaging (PPP) was approved by me as health minister, the executive and the first and deputy first ministers.
"It covers all the UK. The Gallaher decision was not based on PPP".
The majority of workers losing their jobs at the factory in Ballymena, County Antrim, are leaving the company on Friday.
The new law on "plain" cigarette packages came into force on Friday.
It will mean an end to white packs with company logos in the UK.
In a separate EU law coming in on Friday, new packs will also have to have extra health warnings on the top.