M1: Cows cause traffic to mooo-ve slowly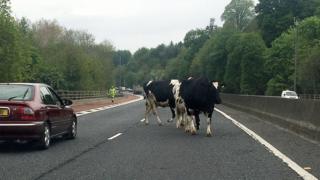 Three runaway cows caused rush-hour delays for drivers on the M1 in County Antrim.
The dairy cattle were trotting towards Belfast on the outside lane close to Ballyskeagh, causing traffic to mooo-ve slowly.
But the Friesians did not get to milk it for long and their udderly ridiculous escapade ended when they were herded off the road, into a field.
Police have said they want the owner of the cows to contact them.