Defibrillators installed in Belfast parks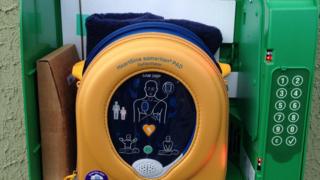 Belfast City Council has installed defibrillators in six parks across the city.
The council said the move improves the survival chances for people suffering cardiac arrest.
It said: "The machine gives clear spoken instructions and can be used effectively and safely by people who have had no prior training".
A demonstration of how to use one took place at Boucher Road Playing Fields on Wednesday.
The other parks equipped with the devices are Falls, Victoria, Fullerton, Tullycarnet and Waterworks.
The defibrillators have been placed outside in key-coded cabinets and are accessible during normal park opening hours.
In the event a person suffers a suspected cardiac arrest, it is necessary to call the ambulance service first.
It will provide an access code once it has confirmed that it is dealing with a genuine case.
Hillsborough-born doctor, Frank Pantridge, invented the portable defibrillator in 1965 while working at the Royal Victoria Hospital in Belfast.
His first model operated from car batteries and variants of this are used across the world.
He went on to install his first portable defibrillator in an ambulance.