NI Water's head of safety says oil well poses no risk to public water supply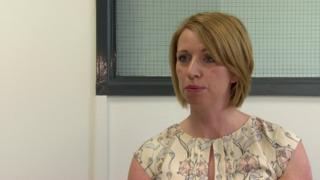 Northern Ireland Water's head of safety has said a controversial oil well in County Antrim does not pose a risk to the public water supply.
The utility company said a detailed risk assessment and additional monitoring meant it was able to reassure customers.
But those opposed to the drill at Woodburn Forest near Carrickfergus say they still believe the project could result in contamination.
Drilling began on the site on Monday.
Protestors have vowed to maintain a presence at the site.
The oil company Infrastrata UK believes there could be 25m barrels of oil in the target area.
It has leased the drill site from NI Water and is sinking an exploratory well.
It is close to a number of reservoirs which supply water to tens of thousands of homes in Belfast and Carrickfergus.
NI Water's head of safety Dympna Gallagher said the drill site was "zero discharge" with no run-off into adjacent watercourses.
And she said a nearby river, which was sometimes used to top up several of the reservoirs, had been diverted straight to the sea before site work started.
Drill protestors suggested this showed the company believed the project might pose a risk.
But Ms Gallagher said it was a "belt and braces" exercise to provide additional reassurance.
She said the fact that the drill site was zero discharge, that the nearby river had been diverted and that additional monitoring had been introduced meant she was "content" and "sure" that the drinking water was safe.
She was asked whether she'd be prepared to publish the risk assessment done by the company prior to the signing of the site lease.
But she said she was unable to do so because the local water treatment works was considered "critical national infrastructure" and the company was not allowed to make the details public.
The Northern Ireland Environment Agency said on Tuesday it was also monitoring surface and groundwater around the site.
Infrastrata has said it expects to drill for around six weeks before capping the well and restoring the site.
If it wants to extract any oil commercially it would have to lodge a full planning application.