EU referendum: Brexit 'would allow bigger farm grants', says Leave.eu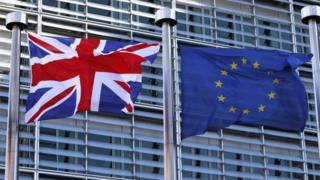 Leaving the EU would allow Stormont to pay more grants to farmers and businesses, a pro-Brexit group says.
Leave.eu makes the assertion in a report published on Tuesday.
It says farm subsidies would be "sustained or enhanced" outside the EU and there would be more freedom to give aid to firms like Bombardier.
The report estimates that Stormont would have at least an extra £67m a year as a result of the UK no longer paying into the EU budget.
An earlier report by the Nevin Economic Research Institute (Neri) a trade union-linked think tank, suggests that Stormont would not have more spending power as the result of a Brexit.
It said that "the best that Northern Ireland could hope for would be to break even".
---
Analysis: John Campbell, BBC News NI economics editor
This report estimates that Northern Ireland's share of UK's contribution to the EU budget is £500m - roughly 2.7% of the £18.8bn gross contribution in 2014.
However, when the UK's budget rebate is subtracted the contribution is £14.4bn and Northern Ireland's portion falls to £375m.
That matters because Leave.eu also estimate that in 2014 Northern Ireland received £433m in agricultural subsidies and structural funds.
So on the gross figure, Northern Ireland is a net contributor of £67m, but on the (real) net figure Northern Ireland is actually up £58m.
---
The Leave.eu report says that under an independent UK farm subsidy system more money could be given directly to farmers.
Under the EU Common Agricultural Policy (CAP) a proportion of subsidy money has to be allocated to rural development programmes.
Norway and Switzerland, which are both outside the EU, pay more generous subsidies than the CAP.
The report also contrasts the treatment of the aerospace firm Bombardier in Canada and the UK.
Cross-border trade
The Quebec state government effectively government bailed out the firm's C Series project by buying a $1bn (£690m) stake in it.
Leave.eu said: "Similar action is difficult, if not impossible, in the EU, because of strict state aid regulations, which prevent the UK government from acting freely to protect key industries.
"Indeed, the European Commission has challenged the UK before over the legality of government assistance given to Bombardier for research and development purposes."
The report also assumes that the UK will quickly make a comprehensive free trade deal with the EU meaning there would be "no significant risk" to cross-border trade.