Murdered woman's family gets permission to challenge PSNI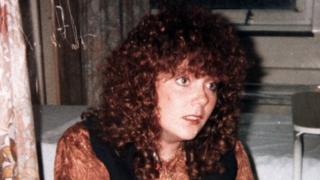 The family of a murdered woman has won permission to challenge the police for not including her in an investigation into a British agent in the IRA.
A judge granted leave to seek a judicial review of the decision not to include Caroline Moreland.
The agent, codenamed Stakeknife, is accused of involvement in up to 50 murders.
He has been named by the media as ex-west Belfast man Freddie Scappaticci, who has denied the allegations.
The judge ruled the police are arguably under a legal obligation to carry out a probe into Ms Moreland's death.
Ms Moreland, a 34-year-old Catholic from Belfast, was tortured and killed by the IRA in July 1994 for being an alleged British informer.
Relatives 'waiting for answers'
Despite an RUC (Royal Ulster Constabulary) investigation no-one has ever been charged or convicted of her murder.
Her children have issued proceedings in a bid to secure a fully independent investigation.
At an earlier hearing it was claimed that Mr Scappaticci was permitted to engage in a murder campaign in order to strengthen his position as a British spy.
It was claimed the relatives of up to 50 victims are waiting for answers.
Mr Scappaticci left Northern Ireland in 2003 when he was identified by the media as Stakeknife.
Before quitting his home he vehemently denied being the agent.
In October 2015, Director of Public Prosecutions Barra McGrory called for police to examine Stakeknife's activities, along with what was known by RUC Special Branch and MI5.
Relatives of those allegedly killed by the IRA's internal security team, the so-called "nutting squad", have backed that move, but they are opposed to the Police Service of Northern Ireland (PSNI) taking charge amid suspicions of security force collusion.
Chief Constable George Hamilton has decided detectives from an external force should handle the inquiry, with confirmation of those taking part expected next month.
Any investigation into Stakeknife could last five years and cost up to £35m.
'Arguably acted unlawfully'
With Ms Moreland's murder currently not featuring in the planned inquiry, lawyers for her family claimed it was an unlawful exclusion.
They insisted police are obligated by Article 2 of the European Convention on Human Rights to investigate the killing in the Stakeknife probe.
A lawyer for the PSNI argued that the legal challenge was premature and insisted no decision has been made to exclude the Moreland murder.
The judge held that the chief constable has arguably acted unlawfully by failing to include her death in the examination into the agent.
He also granted leave on points about delay, the requirement to ensure an independent investigation, and an alleged failure to involve the next of kin properly.
Stressing that his decision was no indication of a final outcome in the challenge, the judge listed the case for a further review next month.