Arlene Arkinson search information was third-hand, inquest told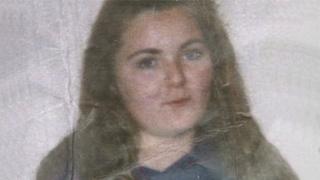 The decision to search the home of Arlene Arkinson's sister was based on third-hand information, an inquest for the missing schoolgirl has heard.
Police and soldiers searched Kathleen Arkinson's home in April 1996 and dug up the entire garden over several days.
Arlene's body has never been found after she went missing in 1994.
On Monday, counsel for the coroner, said: "The information that was provided to the police was the repetition of a hearsay statement."
The revelation came as a former detective constable, who was part of the decision making process, gave evidence for a second time.
Paul Bennett, now retired, was asked by a lawyer for the Arkinson family about the unnamed person he met in 1996.
"Is it right that the person, now called the source, and who you met away from the police station was someone bringing information which had been given to them by others?" the lawyer asked.
"The perception that we had was that the person whom you met away from the police station actually had first-hand information to give but it now seems that the person was giving information which had been given to them or which had been overheard. It was in effect hearsay."
Mr Bennett said: "This person explained to us things that the person had actually seen which was connected to this particular party."
'Satisfied with the consciousness'
The identity of the informant is protected by a public interest immunity certificate despite objections from the Arkinson family legal team.
But the court heard police were "satisfied with the consciousness" of the person providing the tip off.
Nothing was found during the search.
Fifteen-year-old Arlene went missing after a night out in County Donegal in August 1994.
She was last seen with child killer Robert Howard who was acquitted of her murder in 2005 by a jury which, for legal reasons, was not told about his lengthy criminal history including a conviction for killing Hannah Williams in South London several years earlier.
But Howard, 71, remained the prime suspect in the Arkinson case until his death in prison last year.
Second search
Meanwhile, the court also heard how Ms Arkinson consented to a second search at her home using specialist radar equipment in 2002.
It was conducted by Kent Constabulary who were about to commence the Hannah Williams murder trial.
Retired Chief Inspector James Gault, who was the Police Service of Northern Ireland's senior investigating officer on the case from 2002 until 2005, told the court he was initially opposed to the move.
"I believed that the information was not anything particularly new - it was simply a re-jigging of information," he said.
"The previous search had been very, very extensive and had anything been there it would have been recovered during that search."
The case has been adjourned until Tuesday.