Coalisland bomb accused Paul Campbell can return to family home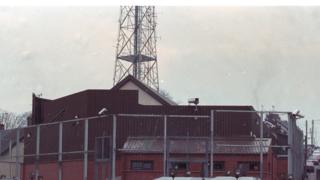 A County Tyrone man accused of an IRA bomb attack on Coalisland police station 19 years ago can return to live in the town again, a judge has ruled.
Prosecutors opposed Paul Campbell's bid to go back to the family home, claiming there was a risk of interference with up to four civilian witnesses.
He was arrested and charged over the 1997 attack last October.
A High Court judge granted his application to vary bail after identifying delays in the proceedings.
"It's an old case and it should have been prosecuted much more vigorously than at the minute," the judge said.
Mr Campbell, with an address at The Mills in Coalisland, is charged with causing an explosion with intent to endanger life at the town's police station back in 1997.
The court was previously told SAS soldiers opened fire on the suspected bombers on the night of the grenade attack.
One man shot at the scene was later convicted of the attack, serving two years of a 10-year prison sentence before being released as part of the Good Friday Agreement.
But a second suspect escaped in a car belonging to a local parish priest, according to the prosecution.
The cleric told police at the time he had slowed down upon hearing explosions and a man unknown to him jumped in the back and demanded that he drive off.
Based on modern DNA testing on bloodstains found in his car it was claimed that Mr Campbell had been the injured passenger.
A man calling himself John Murphy was said to have arrived at a hospital in County Louth following the bombing claiming to have been in a road accident.
But medical staff alerted Irish police after they realised he had suffered a gunshot wound, the court heard.
The patient was identified as Mr Campbell and arrested for questioning in the Republic of Ireland.
He was later released and returned to Coalisland, with information passed on to the police in Northern Ireland.
It was accepted that no attempt to detain him again was made until 2011.
At that stage Mr Campbell allegedly fled across the border to County Monaghan after realising he was wanted.
He was granted High Court bail last October to an address outside Coalisland.
'Risk to witnesses'
Resisting his application for permission to return to the family home, prosecution counsel stressed the potential risk of interfering with civilian witnesses living in the area.
She added: "There are approximately three or four persons who aren't police or soldiers."
However, a defence barrister argued that Mr Campbell should be allowed to help his wife with their four children.
Granting the bail variation, the judge cited the children's rights to family life.
The judge emphasised that Mr Campbell is only allowed into a defined area of Coalisland, limited to getting to and from the family home.
Anywhere else in the town would be a breach of conditions.
"This case must be prosecuted as soon as possible, it's an old offence and its not right that it should be hanging over this man's head," the judge added.