Old Trafford: Manchester United fans from Northern Ireland angry at dummy bomb 'fiasco'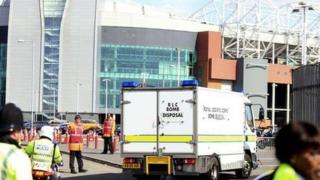 Manchester United fans from Northern Ireland have voiced their frustration after a dummy bomb used in a security exercise caused a Premier League match at Old Trafford to be postponed.
The game between Manchester United and Bournemouth was called off after the item was discovered close to kick-off on Sunday.
Adam Morton, from Portadown, County Armagh, was among those in attendance.
He said he was "angry and disappointed".
A controlled explosion was carried out on the device, which police said was accidentally left by a private firm.
"I was angry and disappointed is the best way to describe it," Mr Morton said.
"Before I heard that news [that the item was accidentally left by a private firm] I was totally of the mindset better safe than sorry and very well handled by the club," he added.
"After I heard that news, to think an oversight by a private company has put thousands of fans out of pocket is ridiculous."
'Tears'
He described the reaction of a young supporter from the Republic of Ireland who was at the game.
"Sitting behind me was a fan from County Kildare, whose young boy had been invited by Ryan Giggs," he added. "When the match was called off he was in tears.
"It is unlikely he will be able to get back over on Tuesday and it is just bitterly disappointing for everyone involved."
Andy Patton from Sion Mills, County Tyrone, was at the match with his 10-year-old grandson who he said was "devastated".
"It was very frightening to be honest," he added.
"I have seen comments going up on social media laughing about it, it was not a laughing matter because a lot of children were traumatised by it and crying.
"There were older people that when we were leaving the stadium were in a state of shock and they were really pushing to get away."
Bomb disposal experts were called to the 75,000-seat stadium on Sunday after the replica device was found in a toilet.
The Premier League match has been rearranged for Tuesday at 20:00 BST.
Greater Manchester Mayor and Police and Crime Commissioner Tony Lloyd called for a full inquiry into the "fiasco".
Mr Lloyd called the situation "unacceptable" and demanded an inquiry to discover "how this happened, why it happened and who will be held accountable".
Manchester United will refund all tickets and allow ticket holders from both clubs to watch Tuesday's re-arranged game for free, while Manchester United season ticket holders will also be given a credit.
It is a gesture that is estimated will cost United around £3m.