GAA star Johnny McGurk jailed for 10 months over £500,000 theft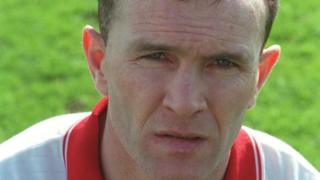 A former GAA star who gambled over £500,000 he stole from his employer has been sentenced to 10 months in prison.
John Malachy "Johnny" McGurk, from Drummuck Road, Maghera, stole £572,206 from a prominent Northern Ireland construction firm.
The 50-year-old pleaded guilty to 34 other charges involving fraud by abuse of his position of trust from July 2006 until the end of 2011.
McGurk was part of the Derry team that won the All-Ireland in 1993.
Years later, he became a gambling addict while an accountant at Patrick Bradley Ltd.
'Thrill'
Passing sentence at Antrim Crown Court, Judge Desmond Marrinan said McGurk gambled in a bid to recreate the "thrill" he felt at the All Ireland in Croke Park.
Judge Marrinan said that after his playing days ended, it appeared the "excitement one gets out of playing at the very highest level needed to be replaced with something".
His downfall, he added, showed how "a decent man can ruin his life by succumbing to the seductive siren call of gambling".
The judge said the defendant may have harboured an honest but unrealistic view that he could have paid the money back "with the next roll of the dice".
He also accepted there was no evidence McGurk had spent the money on an extravagant house, cars or holidays.
Distressing case
It was, he said, a "very sad and distressing case" with addiction at its heart.
In 2011, as a result of suspicions that money was being stolen, the former GAA Allstar was confronted and he initially admitted taking £50,000.
The judge said when the true scale of the theft emerged, there was a serious concern over whether the company could survive the blow, particularly as the setback came as the construction industry was trying to stave off the recession.
However, he accepted that the case had devastated McGurk's life and that he is shamed and remorseful, having "lost his good name" and damaged his marriage.
He also acknowledged that after his addiction was uncovered, he had sought counselling and attended Gamblers' Anonymous.
However, the judge said that while McGurk deserved credit for a guilty plea, the custody threshold was passed, with no reason to suspend the sentence.
Imposing a total sentence of 30 months, he said that normally there would be 50/50 split, but in this case McGurk would serve ten months in prison, in the hope he would come out "chastened", followed by 20 months licensed supervision to help "kill off the this addiction".