'Gay cake' row: Judgement reserved in appeal by Ashers bakery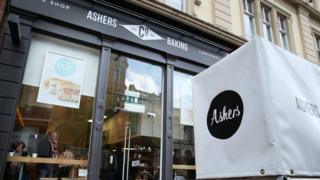 Judgement has been reserved in the appeal brought by Ashers bakery.
The Christian owners of the company are appealing the ruling that they unlawfully discriminated against gay rights' activist Gareth Lee.
Two years ago, Mr Lee was refused a cake with the slogan, "Support Gay Marriage".
Last year, a judge ruled he had been unlawfully discriminated against on the grounds of sexual orientation and religious or political beliefs.
Lord Chief Justice Sir Declan Morgan said the judgement would be given as soon as possible.