Dan Murray murder: Man released in gun attack investigation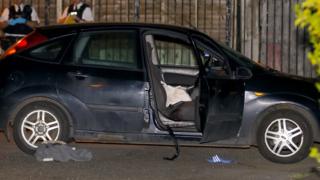 A man has been released after being arrested in connection with the murder of a takeaway delivery driver in west Belfast.
Dan Murray, 55, died after he was shot while making a delivery on Lady Street, near the Grosvenor Road, on Monday.
Police said they believed he had been lured to the area by a bogus call and described his murder as "horrific".
The 38-year-old man was released unconditionally after being arrested in west Belfast on Wednesday night.
Also on Wednesday night, about 100 people gathered in west Belfast to protest against paramilitary violence in the city.