'Gay cake' would have been provided if not for the word 'gay', court hears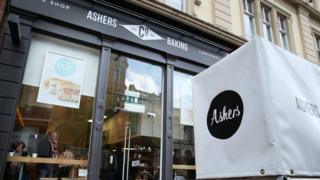 A gay rights activist would have been provided with a cake bearing the slogan 'Support Gay Marriage' if it was not for the word 'gay', a court has heard.
Gareth Lee's barrister told Belfast Court of Appeal that the word gay is "a statement of sexual orientation and therefore direct discrimination".
Last year, Ashers Baking Company was found to have discriminated against a customer who placed the order in 2014.
The Christian run and owned company is appealing that ruling.
Mr Lee's barrister told the court: "It's very easy to say this case is entirely trivial.
"At one level it's entirely trivial, but the context is, I think, recognised by everyone at the Bar and I hope everyone on the bench as being entirely non-trivial."
He added: "If you are gay, you have lived in a world of prejudice for a very long time and you want to be able to engage with the world, without it mattering a hoot what your sexual orientation is.
"Gareth Lee simply asked the defendants to provide a service - a contract - with a non-religious, limited company.
"That is the point which was being made by Mr Lee in his evidence."
Message
The barrister said that the judge in the civil case, which ruled against Ashers, did not accept evidence given by one of the bakery owners - Karen McArthur - that the refusal to provide the cake was in "no way related to Mr Lee's sexuality".
One of three senior judges hearing the appeal asked if the issue was "maybe with the message, or slogan and not sexual orientation", as Mr Lee had been served on previous occasions by the bakery.
Mr Lee's barrister told the court that his sexual orientation was not an issue until it came to light when he placed the order for the cake on 9 May, 2014.
He said sexual orientation was "absolutely an issue in the case".
The barrister said the defendants (Ashers Baking Company, Colin and Karen McArthur) would have allowed Mr Lee to purchase the cake if it had said "support marriage or support heterosexual marriage".
A barrister for the family told Belfast's Court of Appeal on Monday there was no contractual obligation to provide the cake.
The hearing continues.