Abortion: Woman who lost baby at 32 weeks calls for 'first-class' perinatal hospice care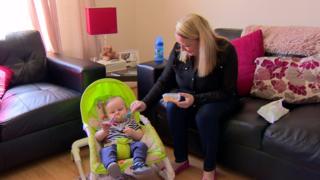 Abortion is a divisive issue in Northern Ireland, and in this two-part series I speak to two women who made very different decisions about their pregnancies.
In this second part, a County Londonderry woman says first-class perinatal hospice services - care for unborn children with severe disabilities - must be a priority for the new Northern Ireland Executive.
Gemma Bradley, who lives in Claudy, carried a child with trisomy 18, a genetic abnormality, to 32 weeks, and she wants better support for mothers and families in a similar situation.
She feels so strongly about the issue that she and her husband David have been lobbying politicians at Stormont, but she says that in spite of contacting all of the political parties some have not replied.
The couple say that even though they knew their baby had a life-threatening condition they were glad they had continued with the pregnancy and got the chance to hold their daughter, Lily Rose.
"When she was born I cherished those moments with her," Mrs Bradley says.
"Before, I felt I had the weight of the world on my shoulders, but when she was born and I saw her and her wee face and cuddled her it was just amazing.
"It really helped me and David says it helped him because at the start he was swaying towards an abortion where it was just point blank no with me."
Coping
During Mrs Bradley's 20-week scan, her consultant detected abnormalities and the couple were told to prepare for the worst.
She says she believes fewer parents would opt for an abortion in Northern Ireland if there was better support available.
"What I would love to see happening is more counselling for mothers and fathers like us, more supports from the health trusts, a designated suite for any family that's going through what we went through, and support after bereavement," she says.
The call for better palliative services is backed by Every Life Counts, a cross-border charity that counsels couples whose children have died or those coping with infants born with life-limiting conditions.
The organisation says services are patchy across the Northern Ireland's five health trusts.
As a result some parents are not being provided with all of the necessary information when faced with difficult decisions.
Tracy Harkin, the charity's spokeswoman, says it is crucial that every mother is offered the same standard of care and choice no matter where she lives.
"According to our figures, over 90% of parents in Northern Ireland who are told their babies have a life-limiting condition are opting to keep their babies, even without the support and services being what they should," Mrs Harkin says.
Inappropriate
Support from politicians on the matter is long overdue, she adds.
"I think the job of politicians is to listen to constituents, to really research the whole area.
"[They must] come up to speed with developments in perinatal hospice and palliative care in other parts of the world and really support that."
When it comes to palliative care for the foetuses or infants with life-limiting conditions every health trust operates according to guidelines issued by the Department of Health.
But those guidelines often fail to translate onto the hospital ward, Mrs Harkin says.
Instead, some parents have complained that the facilities and support were inappropriate for women who had lost babies being nursed within earshot of labour wards, according to the charity.
When Mrs Harkin was pregnant with her third child she was told that the baby had trisomy 13, a life-limiting disability that normally results in the baby dying at birth.
But her daughter Kathleen, now aged nine, defied the odds and is now attending a school for children with special needs.
Mrs Harkin says she will never forget the moment she was told her daughter would not beyond one year.
"Kathleen was given tremendous care and love," she says.
"The provision for hospice and palliative care is patchy, not standardised, depends where you live and the individual medical team and the hospital you live closest to and that is not good enough."
Transforming
Another charity, LIFE Northern Ireland, says it too wants to see services brought to a 21st-Century standard.
It has drawn up proposals to design, finance, build and commission the first specialist perinatal unit in Northern Ireland.
One health trust is tackling the issue head on with the aim of transforming perinatal hospice care.
The South Eastern Health Trust recently opened three purpose-built rooms designed by parents whose babies died.
With private kitchens, ensuite bathrooms, living areas, books and Moses baskets, the parents have thought of everything.
Hilary Patterson, a bereavement support midwife at the Ulster Hospital, says the service is vital to help grieving parents to cope.
"Parents can spend time here - the bed settee means that dad never has to leave his wife, partner or the baby.
"We have everything to enable parents to spend time with their baby and to take photographs, hand and footprints.
"So, in the years to come they know they were given the choice to get it right for them and their family."