BBC NI: Irish language speakers protest outside BBC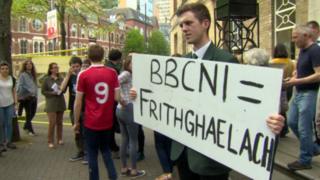 Almost 40 Irish language speakers have taken part in a protest outside the BBC's Broadcasting House on Ormeau Avenue, Belfast.
A spokesperson said he had not been allowed to ask questions about Irish language issues during the BBC's election debates.
A petition was handed to the reception.
In response, the BBC said it produces multi-platform Irish language content.
Spokesperson Cónall Ó Corra said: "I was on two programmes for the BBC in the last fortnight in regards to the elections.
"I was asking a question in regards to the Irish language. The first time I asked a question on the Good Friday Agreement Generation programme I was allowed to ask my question. After that I was cut short. I was not allowed to retaliate with a point."
Mr Ó Corra said he also attended the BBC's Leader's debate last Tuesday evening.
"I intended to ask a question about the DUP's proposal to stop 'squandering money' on Irish schools, and I was cut short.
"Apparently my question was not deemed worthy enough to ask. My question was cut short because of a lack of time, but there were two full questions asked after that.
"So we're here today to show our disgust and how we feel that the BBC has censored us," he added.
A BBC spokesperson said: "BBC Northern Ireland produces a range of Irish language content across television, radio and online.
"This reflects commitments detailed in the BBC's current charter arrangements.
"Our Irish language programming benefits from creative collaborations with different organisations, including Northern Ireland Screen and other broadcasters."