Man suggested partner's daughter 'should be on pill' while secretly abusing her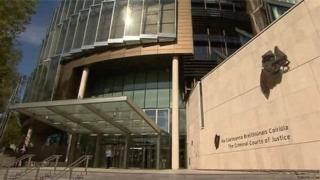 A man suggested his partner's daughter should be put on the birth control pill while he secretly sexually assaulted her, a court in Dublin has heard.
Darren Davidson, 37, formerly of Dungormley estate, Newtownhamilton, Armagh, has been sentenced to nine years for abusing the girl when she was aged between 13 and 15.
The court heard it happened in Monaghan in the Republic of Ireland.
He had been questioned by Irish police, but emigrated to Australia.
He was arrested in Manchester airport the following year and agreed to be extradited to the Republic of Ireland.
Davidson was convicted last March at Dublin's Central Criminal Court of 11 sexual offences at the victim's home between 2008 and 2010.
The woman, who is now an adult, waived her right to anonymity. She told the court in a written statement that she did not wish to be a victim, but felt the abuse would always be with her.
She said she found the trial process incredibly difficult because she had to be in close proximity to Davidson, but was glad she went through with it.
"When I look at my younger sister I feel I have protected her and that makes the trial worth it," she said.
She said she decided to make a complaint to gardaí (Irish police) because the abuse was getting more frequent and severe and she felt she had to protect her siblings.
"I was no longer going to stand being a sexual object for him," she said.
The judge said she had the "classic symptoms of being abused by someone they trust".
He said that without any mitigating factors, he would have imposed a 12-year sentence. However, he took into account Davidson's good work history, his character references and his epilepsy.
He imposed a 10-year term with the final year suspended and ordered that Davidson be registered as a sex offender.
Earlier, a prosecuting lawyer said the abuse began when Davidson moved in with the girl's mother. At one point, he suggested to her that her daughter be "put on the pill". She asked why, saying that the girl was not sexually active and did not have a boyfriend.
The girl told her mother about the abuse in 2010 and she took the children and left the house. Gardaí were alerted and Davidson was interviewed. However, the investigation stalled when he emigrated to Australia.
A defence lawyer said Davidson had since married another women who was standing by him.