Enniscrone: Boeing aeroplane takes sea journey to new campsite home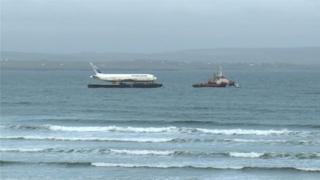 A Boeing 767 has been taken to its new campsite home in the Republic of Ireland after a two-day journey by sea.
The plane left Shannon Airport, County Clare, by barge on Thursday.
It arrived at Enniscrone, County Sligo on Saturday after travelling up the west coast of Ireland.
Thousands of people watched the plane arrive before it was taken to the campsite, where it will be used to house guests.
The Boeing jet was then lifted on to a trailer by crane before travelling by road to the campsite.
The project is the brainchild of entrepreneur David McGowan, who bought the plane from Russian airline Transaero for 20,000 euros (£15,800).
Speaking to RTÉ before the plane arrived in Enniscrone, he said: "If I don't land it, I'll be known as the biggest eejit in the country."