Peatlands Park, Dungannon: Rape victim feared she would be killed during attack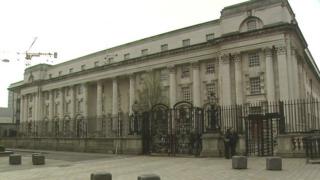 A woman who was raped in a Dungannon park resigned herself to the sexual assault amid fears she would be killed, the High Court has been told.
James Wright, of Derrylee Road in Dungannon, was charged with raping the woman on an isolated path in Peatlands Park, Dungannon, last Wednesday afternoon.
It emerged during a bail application that Mr Wright, 23, had tried to strangle himself while in custody.
The court heard he had an IQ of 44.
A prosecution lawyer told the court that the victim recalled being grabbed by her shoulders as she walked with her dog through the park.
She screamed and struggled with the man, but he put a hand over her mouth which stopped her breathing.
"She said she was scared, concerned that he was going to kill her and realised there was no-one there coming to help her," the lawyer told the court.
"At this point she became resigned to what was going to happen and said she did not resist (as) he put her to the ground."
The judge heard that during the attack, Mr Wright asked personal questions to the woman.
"She said she believed from his behaviour that he had a learning difficulty or some sort, as a result of that she adjusted her tone accordingly," the prosecution lawyer added.
When arrested, he declined to provide intimate body samples and refused to take part in an identification process.
The court also heard that the victim had picked Mr Wright out from a photograph as being the man who raped her.
After being assessed by a psychiatrist as fit to be interviewed and charged, the accused refused to answer questions put to him.
The prosecution lawyer opposed the application for bail.
A defence lawyer told the court that a second psychiatrist believed Mr Wright's limited intelligence meant he was not fit to be interviewed or understand the proceedings.
Raising the issues over his client's suitability for any potential trial, the lawyer said: "He's got an IQ of 44. I have never personally come across a criminal trial taking place with someone who has an IQ of less than 50."
He also told the court Mr Wright claimed to have tried to strangle himself on Wednesday night.
"He said the pressure is getting to him," the defence lawyer added.
The judge adjourned the bail application and requested more information on medical issues and the safety of Mr Wright's current detention.
"There's an obligation on this court to take steps to protect the victim - and this lady has been raped, this isn't an alleged rape - and other members of the public," he told the court.
"But there's also an obligation, given the circumstances, the IQ and limitations of Mr Wright, to make sure he's protected. There isn't a conflict between those interests."