Concern Worldwide: Charity donors will be reimbursed by Friday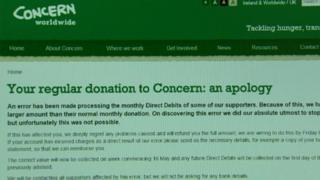 Concern Worldwide has said donors who were over charged by the charity in an "administrative error" will be refunded by Friday.
Concern withdrew 100 times the normal donation amount from some of its supporters' bank accounts.
About 6,000 donors in Northern Ireland were affected by the error.
In a message to donors on Wednesday, it said it will reimburse the money by "Friday at the latest".
Klara Tough was among those warned that 100 times the usual amount would be coming out of her account.
She said that regardless of the reasons behind the error, it should not have happened.
"You're dealing with people's money here, you're dealing with people's livelihoods. You can't make that big a mistake.
"It wouldn't even be okay if it was 10 times the amount, but it was 100 - that's a lot of money."
The Concern message said: "We have been working with the banks to identify the best course of action for the fastest and simplest solution.
"We have now agreed that the full amount taken from your bank account will be automatically returned to you.
"We are aiming to have this process completed by Friday, 6 May at the latest. This updates our previous advice - you do not need to contact your bank."
It added that any donor who has incurred bank charges as a direct result of the error will be reimbursed by emailing or writing to Concern with "supporting documentation".
A total of 24,700 people across the UK were affected. Supporters of the charity in the Republic of Ireland did not experience the error.
On Sunday, the charity's UK executive director, Rose Caldwell, apologised for the error.
"We are conducting a rigorous investigation into how this error happened to ensure it will never happen again," she said.
"Without the support of our donors, Concern would not be able to deliver its life-saving humanitarian work to vulnerable people worldwide."