Carrickfergus attack: Police car window smashed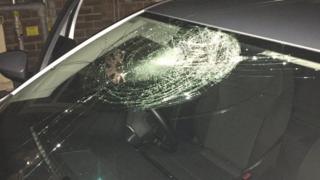 The windscreen of a PSNI car has been smashed during an attack on a police patrol in Carrickfergus.
Two officers were inside the car conducting a mobile patrol of the town when the incident occurred in the early hours of Monday.
They were leaving Pinewood Avenue at about 02:00 BST, when a man emerged from an alleyway and threw a brick at the vehicle.
The brick struck the windscreen in front of the driver, smashing it.
The man, who was dressed in a dark hooded jacket with his face covered, ran off in the direction of the alleyway.
The officers were left shaken, but physically unharmed.
Sgt Brian Caskey condemned the attack.
"This patrol vehicle will be out of circulation while repairs are carried out," he said.
"The person responsible needs to be identified and brought to justice."