Dungannon: Man, 23, in court over rape of woman in Peatlands Park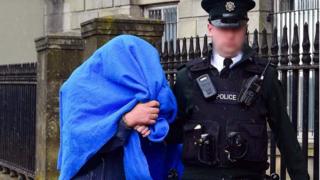 A 23-year-old man has appeared in court charged with raping a woman in County Tyrone.
The woman was attacked while walking her dog on an isolated path in Peatlands Park, Dungannon, last Wednesday afternoon.
James Wright, of Derrylee Road in Dungannon, who was described as vulnerable in court, was accompanied by an adult at Omagh Magistrates Court.
Bail was refused.
The court also heard claims by the defence that Mr Wright had an "extremely low intellect".
A detective told the court Mr Wright had circled the victim on his bike before the "ambush-style attack".
It was claimed the victim realised her attacker had learning difficulties and asked for his name but he refused, saying: "I can't tell you because you'd tell someone who would get me into trouble."
The court heard Mr Wright, who is known to social services, was assessed by a psychiatrist who deemed him fit to be interviewed and charged.
Forensic tests are being carried out on a bicycle and high-visibility jacket recovered from the accused's home.
Detectives are still searching for a bicycle helmet.
Mr Wright was remanded into custody until later this month.