Stormont 2016-17 budget: Has austerity come to an end?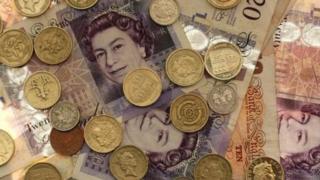 Election manifestos are, by their very nature, optimistic and a glance at the documents produced by the main Stormont parties ahead of this year's Northern Ireland Assembly election could give you hope that an era of austerity is coming to an end.
But that would be a forlorn one.
The next Northern Ireland Executive will almost certainly have to fund its policies from steadily decreasing resources.
Stormont's main annual budget for day-to-day spending in 2016-17 stands at just under £9.8bn.
The vast bulk of which comes from the Westminster block grant.
It is worked out using the Barnett formula, but in simple terms it depends on the spending plans being set by the chancellor for the whole of the UK.
Challenges
Stormont's Department of Finance used the chancellor's November 2015 spending review to project the trajectory of its budget.
It showed that in real (inflation adjusted) terms it is estimated to fall to below £9.2bn by 2019-20.
The conclusion, published in January's budget book, added: "Funding levels will continue to see cash increases, but a real term decline in 2016-17 and over the coming years."
It said this would bring "increased challenges for ministers as they seek to deliver services within restricted budget envelopes".
The picture has brightened a little since then, with the chancellor's March budget giving Stormont an additional £223m over the next four years.
The finance minister said the extra funding would give the executive some flexibility to allocate more financial resources towards health, skills and education.
Pledging
The Social Democratic and Labour Party says this money could fund their manifesto pledges on student places, childcare and a child trust fund.
The Democratic Unionist Party and Sinn Féin are both pledging to increase health spending by £1bn and it seems certain would spend most of the £223m there.
The Ulster Unionist Party's manifesto also implies more spending on health, particularly mental health.
Recurring savings from a major redundancy programme will also help the next executive but will not relieve all the pressure.
In its pre-election submission, the Chartered Institute of Public Finance and Accountancy calculated that the effective real cut to the Stormont budget will be 5.3% by 2019-20.
It says this represents a "significant financial challenge" and also cautions that if there is not greater efficiency in the health service other departments could face "unsustainable" cuts to their budgets.
Tinkering
The capital or infrastructure budget for the next executive is more positive.
Department of Finance projections show it increasing by 12% in real terms by 2020-21 to just under £1.1bn.
It could rise even higher as money Stormont has borrowed to fund a redundancy scheme can be reallocated to infrastructure if it is not needed for its original purpose.
Of course, the next executive could also choose to raise more revenue.
The Alliance Party is the only one of the major parties to say water charges should fund an improvement in infrastructure.
But the other parties, on the whole, favour only some minor tinkering with property rates, so radical that revenue raising measures look unlikely.