ELO: Dublin gig cancelled at the last-minute due to illness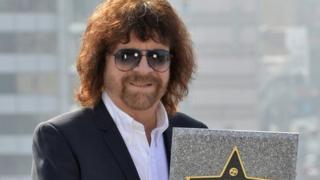 The rock band Electric Light Orchestra (ELO) have been forced to cancel their Dublin gig due to illness.
They were due to play at Dublin's 3Arena on Friday night.
Music promoters MCD said the group's lead singer Jeff Lynne was unable to perform due to medical advice.
In a statement released on Friday afternoon, it said: "We are very sorry to announce that following doctor's advice, Jeff Lynne has had to postpone his performance this evening.
"Jeff would like to take this opportunity to sincerely apologise to all his fans for any inconvenience and disappointment caused."
The performance has been re-scheduled and will now take place at the same venue on 7 May.
Many fans have expressed frustration on social media at they were not informed of the cancellation sooner.
Thomas Sweeney's wife and son drove to Dublin from Londonderry on Friday morning.
The pair were 20 minutes away from the city when a text came through announcing the cancellation.
"They couldn't believe it," said Mr Sweeney. "I called the hotel to see if they could cancel, but they told me they have a 24-hour cancellation policy, which is understandable.
"But for us, that's £200 on rooms and £50 on diesel and no show.
"They'll make the most of it, but they can't afford to head back down the road again and spend the same two weekends in a row."
Compensation
Mr Sweeney suggested that, in light of the recent cancellations of Little Mix and One Direction concerts in Belfast, music promoters should be including insurance in the price of a ticket, to cover the excess costs involved with travelling to a gig.
"Most people would be happy to pay a couple of extra quid to make sure they're not out hundreds in the event of a cancellation. It seems to me that these concerts are being called off with such short notice more and more often.
"There should be some way of compensating fans."
MCD says tickets will remain valid for the rescheduled performance and any fans who are unable to attend the new date should contact their point of purchase for a refund.