Boston tapes: Lawyers for Anthony McIntyre in legal action over college interviews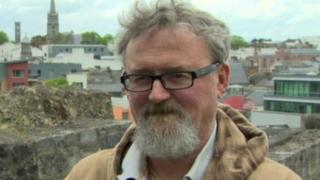 Lawyers acting for a former IRA member are taking legal action to prevent his interviews in the Boston College project being handed over to police.
Anthony McIntyre was one of the main researchers in the Troubles history project.
A subpoena was served on the college at the weekend demanding access to interviews he recorded about his IRA activities.
His legal team says the request by the Public Prosecution Service is unlawful.
Dozens of former republican and loyalist paramilitaries were interviewed in Belfast and other cities and towns over a five-year period about their activities during the Troubles.
They did so on the basis that the material would be kept under lock and key at Boston College until they were dead.
But in recent years the PSNI has successfully taken legal action to gain access to some of the tapes.
Anthony McIntyre recorded a number of interviews detailing his own IRA activities, as well as interviewing others.
---
What are the 'Boston Tapes'?
Dozens of former paramilitaries were interviewed in Belfast and other cities and towns from 2001 to 2006 as part of an oral history initiative known as the Belfast Project.
Details about the internal politics and activities of the IRA were revealed on tape, including accounts of a hunger strike in prison in the 1980s.
Overall, the project cost about $200,000 (£118,520), mostly provided by an Irish-American businessman.
Each interview was transcribed, sent by encrypted email to New York and then the material was sent to Boston College, where it was placed under lock and key at Burns Library.
Following a lengthy legal battle with the college, the Police Service of Northern Ireland gained access to a small number of the interviews in 2013.
---
"I see this as an attempt by the PSNI to force me to become a witness against people that they allege I interviewed, or to reveal the contents and identities of those who I have interviewed," he told the BBC.
"There are no circumstances under which I will be doing that."
"Nothing new in any of this"
Anthony McIntyre now lives in Drogheda and has not been to Northern Ireland for more than two years because of fears he will be arrested.
He served 18 years in prison for IRA offences, and insists the police have already questioned him about all of the issues listed in the subpoena served on Boston College.
"There is nothing new in any of this," he said.
"The information they are requesting concerns incidents and allegations I have either been convicted of, or have been questioned about before.
"Everybody seems to be agreed that the war is over and if that war is over why is the British state and the PSNI still intent on taking prisoners?"
McIntyre legal team seeking emergency review
A subpoena seeking copies of interviews Anthony McIntyre recorded about his IRA activities was served on Boston College by a lawyer for the British government.
They acted after the Public Prosecution Service used an international treaty to seek assistance.
A representative of the college has been ordered to appear in court in Massachusetts next Friday to provide the material requested.
But Anthony McIntyre's legal team say that request was unlawful.
"The application for the subpoenas have to be grounded on two bases," said his solicitor.
"Firstly there has to be some evidence of the commission of some offence, and secondly there has to be an ongoing inquiry or an ongoing investigation.
"In this particular instance, there is no evidence or basis of any of that, so in the absence of that, we say this really points to a fishing exercise and we say it doesn't stand up in a court of law."
The researcher's legal team had given the PPS until 17:00 BST on Tuesday to withdraw its request for international assistance, but it did not do so.
The lawyers will lodge papers at the High Court in Belfast on Wednesday seeking an emergency review of the legality of the request.
They will ask for the hearing to be heard this week.