Ards footballer sustains fractured skull after Belfast attack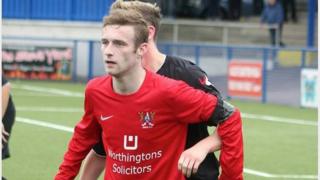 Ards footballer Gary Warwick has suffered a fractured skull and bruising to the brain after being attacked on a night out in Belfast city centre.
The midfielder was making his way home in the early hours of Sunday morning when the assault happened, just yards from Belfast City Hall.
He is being treated for his injuries at the Royal Victoria Hospital in Belfast.
Ards Manager Niall Currie visited him on Monday. He said the player was conscious but "not in great shape".
"He was obviously quite sedated with the painkillers, so he was drowsy but his spirits were good."
'Sickened'
Mr Currie said the club was "sickened" by the incident.
"We're all just so shocked," he said. "It's just sickening that this could happen to such a lovely, decent fella.
"He's the last person who would attract any kind of confrontation - a gentleman who wouldn't say boo to a goose."
"He's got a lovely family, he's in a lovely relationship with his girlfriend who he's engaged to.
"But fingers crossed he'll make a full recovery and we can bring him into the Ards family again and hopefully he'll be celebrating at the end of the season.
"All of us at the club are thinking about him and praying for him. But he's a strong boy, he'll pull through."