Woman in her 90s hospitalised after being attacked and robbed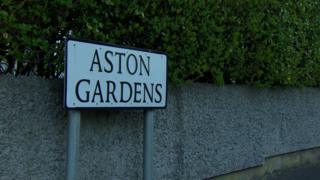 A woman in her 90s has been taken to hospital after being attacked and robbed in east Belfast.
It happened at Aston Gardens in the Upper Newtownards Road area of the city at about 16:00 BST on Monday.
A man, thought to be in his 60s, hit the pensioner on the head with a stick before stealing her handbag.
He is described as being of thin build and around 5'6" tall. He was wearing a flat cap and waterproof jacket, possibly grey in colour.
The woman's neighbour, John McShane, condemned the attack.
"She's a very independent lady, very pleasant. You would see her on a daily basis heading down to the shops and so on.
"It's an awful shock that someone has done this. It'll knock her back, I'm sure."