Eileen Johnston: Widow of murdered soldier challenges pension refusal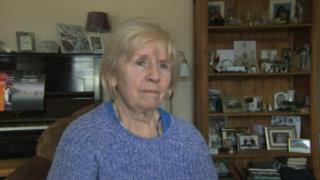 The widow of a murdered Ulster Defence Regiment soldier has accused the MoD of "jumping on her husband's grave" after it refused to reinstate her pension.
Eileen Johnston's first husband, Cpl David Graham, was murdered by the IRA in Coalisland, County Tyrone, in 1977.
The 38-year-old part-time soldier was shot while working in a cement yard and died in hospital 10 days later.
The couple had three children together but Mrs Johnston lost her widow's pension when she remarried in 1985.
She was hoping to benefit from a change in the rules last year which allows all armed forces widows to keep their pension even after they remarry.
However, the Ministry of Defence (MoD) said the rule will not be applied retrospectively so widows like Mrs Johnston will not qualify.
It is understood more than 30 other UDR widows will also lose out.
Angered
Speaking about the decision to withdraw her pension in 1985, Mrs Johnston said: "I was in the procedure of trying to get over the murder of my husband and it was just total, total shock."
She added: "I thought I had [been through] enough in my life without this big shock on top of it."
The family were also angered by the MoD's suggestion that Mrs Johnston could get her pension back, but not while she remained in her current relationship.
A spokesman for the MoD said "such widows' pensions will stay suspended until their current relationship ends".
"If that happens the pension can be restored and, once restored, the pension would remain for life."
Eileen's daughter, Serena Hamilton, was seven years old when her father was murdered.
She told BBC Newsline: "That's shocking from an organisation such as the MoD to say something so demoralising.
"Are they saying 'go and end your relationship just to get your pension back'? They [UDR widows] should never have lost their pensions in the first place," Mrs Hamilton added.
Changes to the war widows' pension were introduced last year after a long-running campaign by the families of dead service men and women.
They argued that widows and widowers should not be punished financially for getting remarried.
But the new changes will not benefit those who have already lost their pensions.
The MoD spokesman said: "As of last year, widows' war pensions would not be stopped upon remarriage.
"However, the changes are not retrospective as this would impact the entire public service and cost the MoD alone £100m."
'Basic humanity'
Mrs Hamilton said she would like to know more about how the figure was obtained but added that a cost should not be put on a person's life.
Northern Ireland's Victims Commissioner Judith Thompson has backed calls for the UDR widows to get their pensions reinstated.
She told MPs on the Northern Ireland Affairs Committee last week that it is a matter of equality and the cases need to be looked at again.
"Those who do remarry - they are still widows - that hasn't changed and their feelings about their loss haven't changed," the commissioner said.
"I think is a matter of equality and basic humanity and it's one that I believe should be redressed."