GP funding: NI Doctors call for more money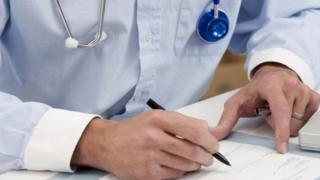 Doctors in Northern Ireland have called for the next executive at Stormont to increase the amount of funding available for general practice.
It follows an announcement that GPs in England are to receive almost £2.5bn of NHS funding.
It is hoped the money will improve access for patients and reduce doctors' workload.
The Royal College of GPs in Northern Ireland want similar action to be taken.
Its chairperson, Dr John O'Kelly, said the announcement in England was "a huge step in the right direction and should lead to significant benefits for patients across the water.
"If we had a comparable investment here we would more or less solve our problems," he said.
"It would lead to a vast improvement in the ability of family doctors to provide the standard of care that local communities and patients deserve.
"For too long, GPs have been undervalued, underfunded, and not recognised for the essential role we play in keeping the health service sustainable and safe for patients."
Dr O'Kelly warned that without funding, it was likely that more rural practices would close.
"If we don't address the problems facing general practice we will start to see practices closing.
"In many ways rural general practice is the canary in the mine. They are the ones that are going to go first and we're already starting to see difficulties there."