Former surgeon speaks about treating victims of paramilitary-style shootings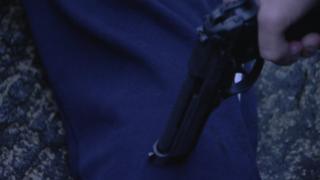 Paramilitary-style attacks in Northern Ireland were a feature throughout the Troubles and although their frequency has diminished in the years since the Good Friday Agreement, they still have the capability to maim and kill.
Last week, Michael McGibbon was fatally injured after being shot several times in the leg in north Belfast.
Just days later, a man was shot twice in the legs in Londonderry.
According to police figures, there have been 55 similar attacks which involved people being shot in the legs in the last two years.
Prof Rab Mollan began working at the Royal Victoria Hospital in Belfast in 1969 and was "involved in the Troubles, right from the word go".
Not long after he started as a doctor, he was assisting in the care of casualties who had been shot but initially he was not dealing with injuries sustained in paramilitary-style attacks.
"Once we got into the 70s it then became more a feature and continued on at different rates over the years," he said.
"After the ceasefire, that changed the pattern to beatings and intermittent gun shot injuries."
Prof Mollan said although most paramilitary-style attacks were "kneecappings", people were also shot in the ankles and elbows.
"It was a euphemism that they were kneecappings because very few bullets actually went into the knee," he said.
"The way in which people were shot normally was to get them to lie on their face and then they were shot usually in the dark from behind.
"Most of the victims were shot in the soft tissues below the knee joint itself, so thankfully there weren't too many serious injuries to the knee."
For a while, he also treated patients who had been punished using a different weapon.
Drilling elbows
"There was an outbreak of drilling elbows with a hand drill but that lasted a short period of time," he said.
When patients arrived at the hospital they were assessed and their arterial and nerve functions checked.
"There were periods when there was a high rate of arterial damage and our vascular surgeons had to be involved in the repair," he said
"The patients would be taken to theatre and dealt with.
"The soft tissues were cleansed and then we would put in sutures (stitches)."
As well as treating damage to arteries and tissues, doctors often had to tend to fractures resulting from the gun shots.
Weapons
The retired doctor said it was not uncommon for some people to end up back in hospital.
"There was a bit of a sequence where people were shot in the knee or in the leg and then they came in later with elbows and ankles, so yes, we did have repeat patients," he said.
He said the type of weapon used on victims had an impact on the type of injuries inflicted.
"Certainly in the 80s when we were faced with much more serious injuries, it was because a high velocity hand gun had been used and that then was stopped fairly quickly once it was realised there was a huge amount of damage being done," he recalled.
"The amount of energy expended to the tissues was very much reduced in a low velocity hand gun compared to high velocity weapons.
"When low velocity weapons are used, the tissues tend to move out of the way, rather than be directly damaged because the energy transfer is much lower.
"In high velocity injuries which you mostly associate with rifles, there's quite a shockwave goes through the tissues and that does a lot of damage as the bullet goes through or lodges in the tissue.
During his career, firstly as a doctor and then as a orthopaedic surgeon, he never witnessed anyone dying from their injuries as a result of a paramilitary-style shooting.
'Low velocity'
"If you're shooting at a leg, unless the bleeding is catastrophic at the time, it is not going to be fatal," he said.
"There were occasions when there were low velocity injuries to the thigh and pelvis, but even then, the vast majority of those weren't fatal."
During the 90s, Prof Mollan became a Church of Ireland minister and continued in a duel role as surgeon and minister until he retired from working in the health service in 2001.
"I know it's an odd thing for people to get their heads around, but it was a very natural progression because I work and still do a lot of work in Africa," he said.
"People there just accept the fact that the surgeon is a minister but here people like to put you in a box."
The skills he has amassed during his long career have not gone to waste, he spends time doing missionary work in Africa, which includes carrying out operations.