Bible verse linked to Brexit mural appears on gable wall in Tiger's Bay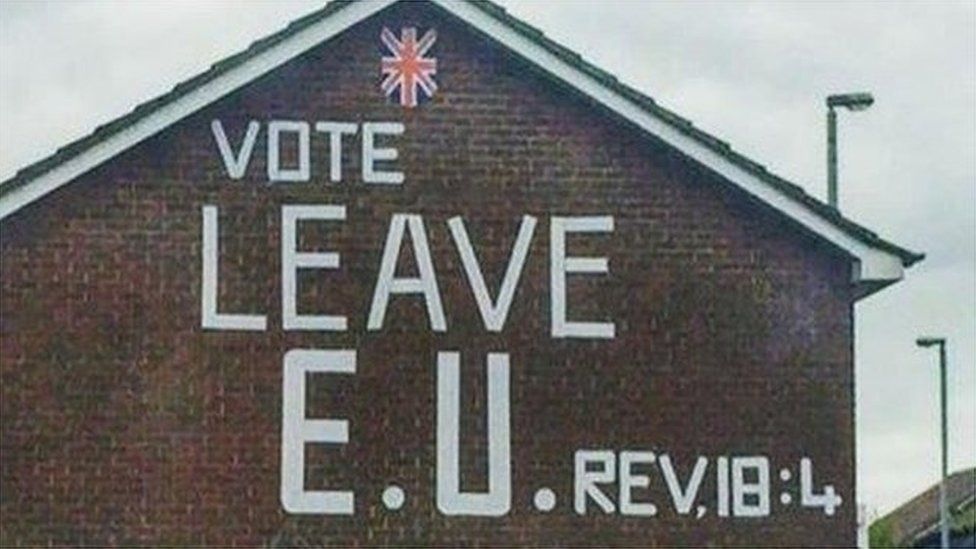 A bible verse mural linked to a possible Brexit has appeared on a wall in the Tigers Bay area of Belfast.
Someone wrote across the gable wall "Vote leave EU - Revelation chapter 18 verse 4."
The verse is: "And I heard another voice from the heaven, saying, Come out of her, my people, that ye not be partakers of her sins, and that ye receive not of her plagues."
A referendum is being held on Thursday, 23 June to decide whether the United Kingdom should leave or remain in the European Union.
Prof Drew Gibson, from Union Theological College in Belfast, said: "This verse is about the oppression of the poor by the strong. It's about those who search for luxury and want to leave God out of the equation.
"It is interesting in the context of our coming election and the Brexit debate where everybody is saying it's all about the economy, it's all about the economy, it's all about the economy.
"This verse says 'no, it's not actually all about the economy'.
"There's morality at the heart of it, there's spirituality there as well."
The editor of the Irish Catholic newspaper, Michael Kelly, said he did not think many people would look up the verse and read it.
"I have to confirm some protestants' worse suspicions about Catholicism, when I first saw the verse, I had to go to my bible and look it up," he said.
"I think trying to bring religion into it is probably quite bizarre because I really don't think that it's a debate that the bible has anything much to say about.
"What the bible has to say about it, how the European Union should be run, how our country should be run and that should be run along just lines and I think that can be done whether the United Kingdom stays within the European Union or not."