Arlene Arkinson inquest told RUC chief ordered sister's home search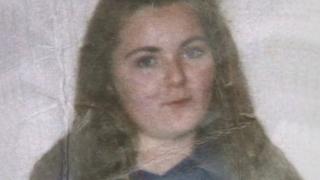 Orders to search Arlene Arkinson's sister's home came from the top, a retired senior police officer has told an inquest into the Castlederg teenager's disappearance.
Kathleen Arkinson's home in Castlederg was searched by the police and army in April 1996 - two years after her sister's disappearance.
Eric Anderson, a former RUC chief superintendent, told the court Sir Hugh Annesley gave authority for the search.
The 15-year-old disappeared in 1994.
She went missing after a night out in Donegal. Her body has never been found.
Mr Anderson recalled a meeting with former Chief Constable Sir Hugh Annesley, held in police headquarters in Belfast, where the decision to search Arlene's sisters home was taken.
Mr Anderson said: "I know and affirm that the chief constable gave authority for the search."
The court was informed that Sir Hugh has no recollection of any meeting regarding Arlene Arkinson.
Giving evidence by Skype, Mr Anderson told the court that Sir Hugh's lack of memory could be due to his once hectic schedule.
Mr Anderson said despite this, his evidence still stood: "I again state that his permission was obtained before the search."
Arlene Arkinson was last seen with the convicted child killer Robert Howard who died in prison last year.