Bombardier: Aerospace firm adjusts job cuts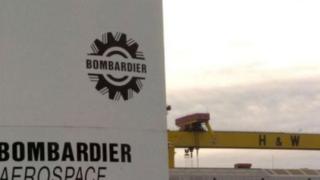 Bombardier is adjusting its previously announced job cuts programme in Belfast, with a greater number of redundancies this year.
The aerospace firm said in February that it was axing 1,080 posts over two years, about 20% of its Northern Ireland workforce.
It now says up to 630 will go in 2016, as opposed to the 580 figure stated initially.
Bombardier is cutting 7,000 jobs across its global workforce.
A spokesperson for the company said: "We have advised our employees that, having reviewed our requirements, regrettably, we need to pull forward some of the workforce reductions.
"We appreciate this is a very difficult time for our workforce and their families and we are doing all we can to mitigate the numbers of compulsory redundancies."