Star Wars film crew arrives in Donegal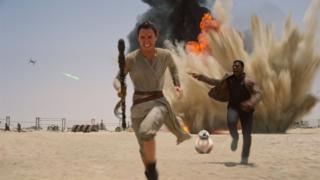 Film crews believed to be working on Star Wars: 'Episode VIII' have arrived in County Donegal.
According to local newspaper, The Donegal Daily, there has been widespread speculation that the movie would be filmed in the area.
Many trucks and cranes have descended on the the Inishowen Peninsula at Malin Head in recent days.
As yet the exact location which the crew will film at is unclear.
Speaking to BBC Radio Ulster's Good Morning Ulster programme, journalist Stephen Maguire said, "there's huge excitement in the area.
"We don't know what they are filming, or what exact scenes are being filmed, but the reason they must want to film here has to be the spectacular scenery.
"We just hope it's not a trap!"
It's understood that the Malin Head road will be closed temporarily from 15-17 May.